Sunday, March 16, 2003
Woke up early this morning to the sound of the barred owl. It was at a distance and moving away. It only hooted for a short while and then was silent.

Went back to sleep and when I woke at my usual time, there was a house finch singing its warbling song outside my window. I enjoyed the serenade! Have been seeing both the male and female house finch at the feeder over the past couple of days.
Saturday, March 15, 2003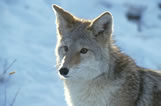 The coyotes were yipping and yapping over on the next ridge last night.

It sounded like a small group, and they were moving pretty quickly along the ridge - which made me
think they might be chasing something.
Friday, March 14, 2003
As spring approaches, some of us are thinking about good places to go birding. Here's a website that has information about birding hotspots around the world. You'll find a list of U.S. hotspots by state here.
Thursday, March 13, 2003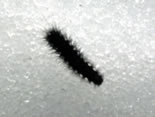 Here's a photo of what might be the caterpillar of the Giant Leopard Moth (Ecpantheria scribonia) - crawling along on the snow near a neighbor's house. I took this photo yesterday when the temperature was in the low 40's.


If this caterpillar had curled up, I'd be
more certain of the identification - because
then you can see the red bands on its body.

Here's a photo of the adult Giant Leopard Moth. If you click on the link in the lower left corner, you'll also see an image of the caterpillar. (And it's much better than my fuzzy photo!).

This moth is in the same family (Arctiidae) as the Isabella Tiger Moth (Pyrrharctia Isabella), the larva of which is commonly called the Woolly Bear Caterpillar.
Wednesday, March 12, 2003
Here's an interesting site for tracking the signs of spring - including the migration of monarch butterflies, hummingbirds, and other birds such as the red-winged blackbird, oriole, and bald eagle. It includes tracking maps for some of the species.
Tuesday, March 11, 2003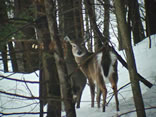 Continue to see the whitetail deer on almost a daily basis. Until recently, had been seeing them in groups of two or three. I believe that, in most cases, this was a doe with her growing fawn or fawns.

Am now seeing groups of 5 or 6 deer

at a time. Other years, I've noticed the
same thing. Around this time, I start seeing
larger groups of deer together. Sometimes there
will be nine or more in one group.
Monday, March 10, 2003
The eastern phoebe should be arriving pretty soon - probably within the next week or 10 days. The phoebe is one of the first migrant birds to return to New England.

The males arrive before the females and begin singing their spring song. With the leaves off the trees, this is a good time to observe them and learn where their territories are.
Top of page