Yellow-bellied Sapsucker Information
Length: 8 - 9"
Habitat:
Breeding habitat: Deciduous and mixed forests, especially woods with aspen. Requires dead trees or trees with some soft wood for excavating nest cavities.
Winter habitat: Orchards, parks, woodlands.
Diet: Tree sap and the inner bark of trees; insects such as ants, beetles, and moths; wild fruits and berries.



Calls & sounds of Yellow-bellied Sapsucker


Another photo of Yellow-bellied Sapsucker

Additional Information
Yellow-bellied Sapsucker
Range, habitat, physical description, reproduction, lifespan, behavior, communication, food habits, predation, and conservation status. Includes photos. (From Animal Diversity Web)
Juvenile Yellow-bellied Sapsucker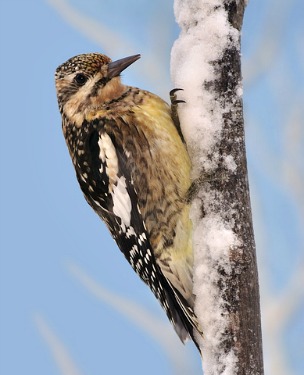 © Steven Russell Smith
Yellow-bellied Sapsucker
Identification Tips
Medium-sized woodpecker
Black head traversed by white postocular stripe extending down neck
Red forehead
Pale moustachial stripe offsets black chest and complete, thick black border to throat
Black back with faint white bars
Black wings, with white barring on flight feathers and bold white patch on wing coverts
Yellow breast fades to whitish lower belly and vent, and is streaked sparsely about the flanks
White rump
Dark tail with black and white barring on centralmost and outermost retricies
Very rarely shows red nape spot
Adult male
Adult female
(Credit: U. S. Geological Survey)

Breeding Bird Survey Map,
2011-2015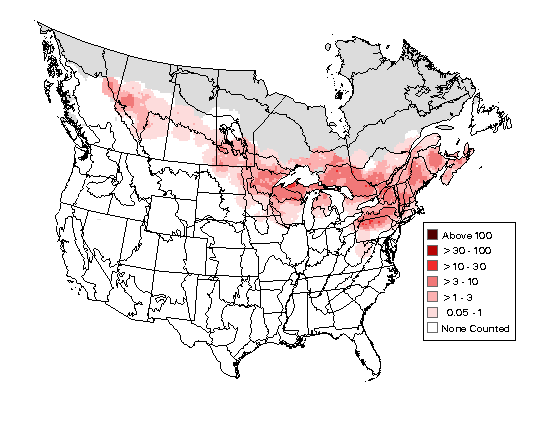 (Image credit: USGS)

Winter Map from eBird
Sightings of the Yellow-bellied Sapsucker Nov-Mar over last 10 years