Rose-breasted Grosbeak Information
Length: 7 - 8.5"
Habitat: Deciduous or mixed forests, orchards, groves, swamp borders, shrubs at the edge of fields, wooded residential areas with shrubs. Favors edge habitats or woodlands with a mixture of dense brush (or shrubs) and trees.

Diet: Seeds; tree buds and flowers; insects, including beetles and caterpillars; spiders; wild berries and fruits.



Songs of Rose-Breasted Grosbeak
Song
(Other birds in background)
Audio credit: Paul Marvin, Xeno-Canto [CC NC SA 4.0]
"Chink" calls, song


(Other birds in background)
Audio credit: Tayler Brooks, Xeno-Canto [CC NC SA 4.0]
From Cornell Lab:
More songs and calls of Rose-breasted Grosbeak


Photo of Rose-breasted Grosbeak at Nest

Additional Information
Rose-breasted Grosbeak
Description, range, habitat, songs and calls, identification tips, and behavior. Includes photos, illustration with field marks, and range map. (From WhatBird.com)
Female Rose-breasted Grosbeak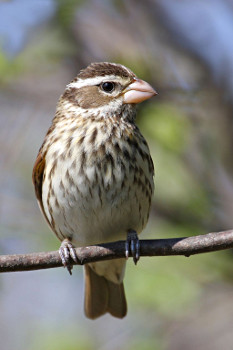 Cephas [CC BY-SA 3.0], via WC

Rose-breasted Grosbeak
Identification Tips
Large, conical, pale bill
Adult male
Rosy-red, triangular breast patch
Black head and upperparts
White underparts
White patches in wing
White spots in black tail
Rosy-red wing linings
Male in Fall and Winter is duller, browner
Immature male similar to adult male in Fall and Winter but duller
Adult female
Black and white crown stripes
White underparts with extensive streaking
Dark gray upperparts
Yellow to yellowish-orange wing linings
Immature female similar to adult female
(Credit: U. S. Geological Survey)

Rose-breasted Grosbeak
Breeding Bird Survey Map,
2011-2015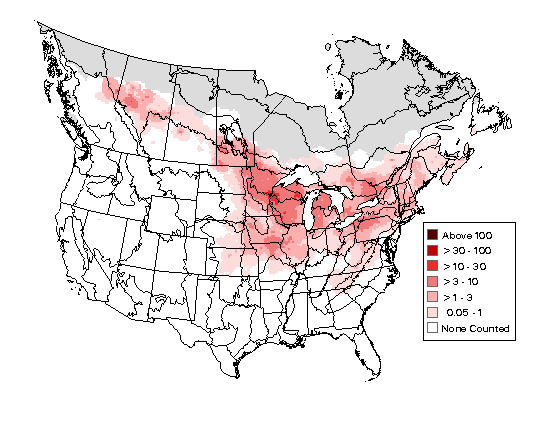 (Image credit: USGS)
Rose-breasted Grosbeak
Range Maps from Cornell
Rose-breasted Grosbeak breeding, migration and nonbreeding range

Includes separate map of sightings.

Rose-breasted Grosbeak
Christmas Bird Count Map


Historical CBC Map from USGS