Orchard Oriole Information
Orchard Oriole
Habitat, diet, feeding behavior, nesting, migration, and conservation status of this bird. Includes range map, photos, and songs and calls. (From Audubon Field Guide)
Orchard Oriole
Description, range, habitat, songs and calls, identification tips, and behavior. Includes photos, illustration with field marks, and range map. (From WhatBird.com)
Orchard Oriole
Range, habitat, physical description, reproduction, behavior, communication, food habits, predation, and conservation status. (From Animal Diversity Web)



Songs and calls of the Orchard Oriole


Identification tips for the Orchard Oriole
Female Orchard Oriole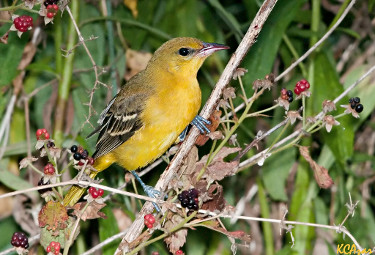 Photo by Kelly Azar [CC ND 2.0]
Breeding Bird Survey Map,
2011-2015



(Image credit: USGS)

Range in New England

In New England, the Orchard Oriole is found breeding in south coastal Maine and southeastern New Hampshire. This bird has been spotted, although rarely, further inland in New Hampshire. There have also been rare sightings in the Champlain Valley in Vermont.
This oriole also breeds in eastern Massachusetts, as well as the Connecticut River Valley in both Massachusetts and Connecticut. It is reported to be generally more abundant in Connecticut than in Massachusetts. This bird is also found breeding in Rhode Island.
The Orchard Oriole winters in Mexico, Central America, and northern South America.