Sunday, January 5, 2003
This last storm brought 22 additional inches of snow! Here's an apt quote from Thoreau's Walden:

"For many years I was the self-appointed inspector of snowstorms and rain-storms, and did my duty faithfully."

And one from John Muir:

"I began to look forward with delight to the approaching winter with its wondrous storms, when I would be warmly snow-bound in my Yosemite cabin with plenty of bread and books."

I very much enjoy watching snowstorms from the warmth of my house, especially when those big fluffy flakes are coming down. One wonders if Thoreau did his "inspecting" from inside his cabin or outside?
Saturday, January 4, 2003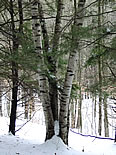 Here's a scene from one of my recent walks in the woods. In the center is a group of paper birch trees growing close together. And you can see the branches of some nearby hemlocks.

Many different birds nest in paper birches, including chickadees, nuthatches, and some species of woodpeckers.


The seeds of this tree also provide food
for the birds, especially redpolls,
pine siskins, and the black-capped chickadee.
Friday, January 3, 2003
It's snowing again today and we're expecting it to be quite a big storm. That got me thinking about spring and wildflowers.

To brighten your day, here are a couple of photos of some wildflowers that bloom in the spring - wild columbines and a red trillium.
Thursday, January 2, 2003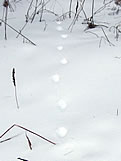 Haven't seen any sign of the red fox lately - until this morning. The tracks in this photo were not far from my house.

One of my neighbors saw a red fox recently - maybe the same one whose tracks we see here.

The adult red fox is generally solitary
until mating season. In New England, mating usually begins in mid-January and

can continue into early March. The peak
period is the end of January.
Wednesday, January 1, 2003
I was excited to see a brown creeper on an oak tree near my house today. Almost every winter I see one on that same tree, but there had been no sign of it so far this year.

As I was watching the creeper, I also noticed a hairy woodpecker and numerous other birds foraging for insects in
that group of deciduous trees.

I've never seen so many birds in that particular area, so I'm guessing that today must have been an especially good foraging day. The temperature was about 40 degrees, which may have been a factor.
Tuesday, December 31, 2002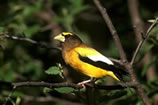 Saw a male evening grosbeak at my bird feeder today - an unusual sighting for me.

I understand they usually come in flocks - and can clean out your feeder pretty quickly.


These birds were historically found only in
the northwestern parts of North America. In the mid-1800's, the range of the evening grosbeak began to expand eastward and southward. Now their range extends east to the Atlantic.
Monday, December 30, 2002
Here's an interesting article by the Connecticut Audubon Society. It tells about how animals spend the winter.

It provides some interesting information about migrators, hibernators, active animals, and more. I never realized that honeybees are active during the winter!
Top of page