Saturday, June 7, 2003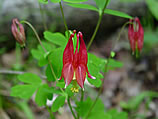 The Wild Columbine has been blooming for the past week or more. The White Baneberry, Golden Alexanders, and Common Buttercup are also blooming.

The blossoms of an early aster, which I think might be the Purple-

stemmed Aster, are beginning to open up.
Thursday, June 5, 2003
Now that the weather is warming up, I've been seeing more butterflies. The ones I've observed most frequently have been the Mourning Cloak and the Eastern Tiger Swallowtail.

I'm also seeing a butterfly that I haven't been able to identify positively. It's either the Pearl Crescent or the Northern Crescent. They're hard to distinguish and I believe that both species are found in this area.
Tuesday, June 3, 2003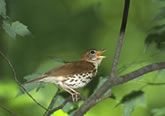 Every morning, I'm still hearing a wonderful symphony of bird songs: many different species of warblers, the wood thrush (photo at right), the ever-present robins, the black-capped chickadee, the phoebe, and many others.


Each morning the song of a different bird seems to predominate over the others.
It's as if every bird gets its own chance to sing a solo.
Sunday, June 1, 2003
The June bugs, also known as May beetles or June beetles, have been flying for the past week or so.

I recall one evening last summer when I heard some unusual rustling sounds in the leaves. The sounds were coming from all around me. I couldn't imagine what was causing this noise.

I got a flashlight and went back to investigate. It took quite a while to catch sight of one, but when I did, it turned out to be a June bug. These insects spend the day buried a couple of inches below the surface of the soil. At dusk, they come back up to the surface and begin feeding.
Friday, May 30, 2003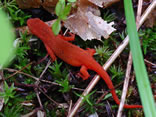 I came across this Red Eft during one of my recent walks in the woods. This is the land form of the Eastern Newt (Notophthalmus viridescens), which is also known as the Red-spotted Newt.

This amphibian begins in a larval

aquatic stage, progresses to the Red Eft,
and then transforms into the final adult aquatic
form. The adult is olive-green or greenish-brown.
Wednesday, May 28, 2003
After not seeing any deer for the past week or more, I saw my "local" doe and her daughter yesterday and again today. They're still in the process of molting into their summer coats.

The whitetail's summer coat doesn't have the underfur that its winter coat does. This lighter coat helps to dissipate excess body heat during the warmer weather.
Monday, May 26, 2003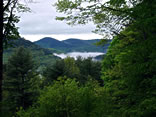 We had a rainy day today. The rain has tapered off now and the view of the mountains is pretty with a blanket of fog in the valley.

You can see that the oak leaves have not fully opened yet. The tree framing the upper portion of the

photo is an oak.
Top of page