Northern Flicker Information
Length: 12 - 14"
Habitat: Open woodlands, forest edges, wooded swamps, orchards, farmlands, roadsides, parks, residential areas.
Diet: Ants (staple), grasshoppers, beetles, caterpillars, crickets, and other insects.

Also wild fruits and berries, including wild cherries, dogwood berries, sumac fruit, and poison-ivy berries; some seeds and nuts.



Calls and sounds of the Northern Flicker


Additional Information
Northern Flicker
Photos, physical description, range, habitat, diet, life cycle, behavior, and sounds. (From NatureWorks)
Female "Yellow-shafted" Northern Flicker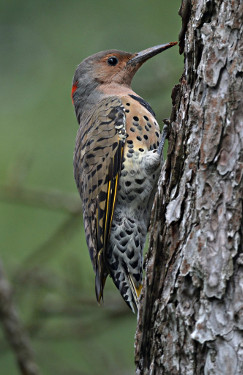 By Reago & McClarren on Flickr, CC
Northern Flicker
Identification Tips
Large woodpecker
Brown back and wings barred with black
Black crescent on upper breast
Beige breast and belly spotted heavily with black
White rump (obvious in flight)
Tail dark above
Two color forms, formerly separate species
"Yellow-shafted"
Breeds in eastern United States and Canada
Tail and underwings are entirely yellow below, and retricies and primaries have yellow shafts
Red crescent on nape
Gray cap and nape
Tan face, chin, and throat
Adult male has black whisker
(Credit: U. S. Geological Survey)

Breeding Bird Survey Map,
2011-2015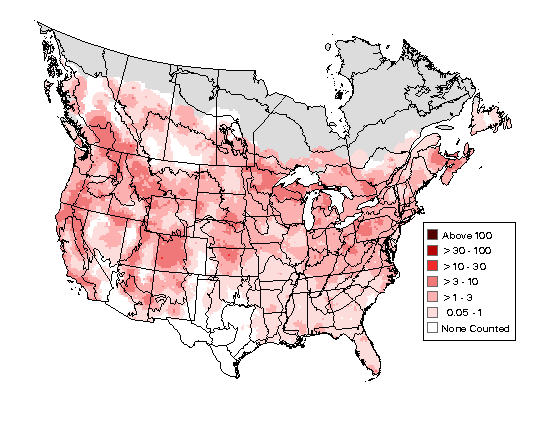 (Image credit: USGS)

Winter Map from eBird
Sightings of the Northern Yellow-shafted Flicker Nov-Mar over last 10 years