Broad-winged Hawk Information
Length: 14 - 19"
Breeding Habitat: Dry deciduous or mixed forests, forest edges, forest openings; wooded edges of swamps, lakes, ponds, and streams.
Diet: Small mammals such as shrews, mice, voles, squirrels; frogs, toads, lizards, snakes, large insects, some small birds.



Calls of the Broad-winged Hawk

Interesting Facts about the Broad-winged Hawk
In the fall, Broad-winged Hawks migrate to Central and South America in large flocks (also known as "kettles"). The raptors in these flocks often number in the thousands and ride the warm upward-moving air currents called thermals.
Each year, these raptors return to their previous nesting territory, but unlike some birds, they don't use the same nest. Instead they build a new nest or add onto an existing nest that was built by a squirrel, crow, or other hawk.
Raccoons, porcupines, and crows sometimes prey on the eggs and/or nestlings of the Broad-winged Hawk. There have even been reports of adult Broad-winged Hawks falling prey to Great Horned Owls and eagles.
Broad-winged Hawk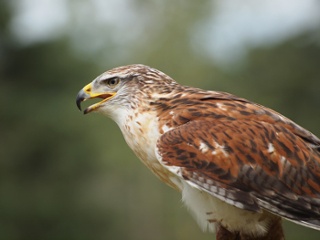 © Pr2is | Dreamstime

Broad-winged Hawk
Identification Tips
Wingspan: 33 inches
Sexes similar
Short, dark, hooked beak
Medium-sized, broad-winged, broad-tailed hawk
Short, broad wings somewhat pointed at the tip
Light Morph Adult
:
Dark brown head, nape, upperwing, and back
Pale breast with thick, reddish bars to belly
Pale underwing with thick black margin to trailing edge
Thick black and white bands on tail of even width
Light Morph Immature
Dark brown head, nape, upperwing, and back
Pale breast with thick, reddish bars to belly
Pale underwing with thick black margin to trailing edge
Thick black and white bands on tail of even width
(Credit: U. S. Geological Survey)

Breeding Bird Survey Map,
2011-2015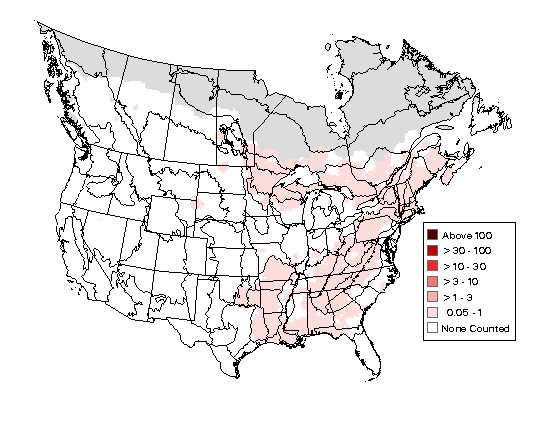 (Image credit: USGS)
Winter Map from eBird
Sightings of the Broad-winged Hawk Nov-Mar over last 10 years

Christmas Bird Count Map
Historical CBC Map from USGS